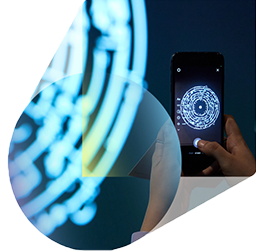 THE MUSEUM
VISITOR EXPERIENCE
Developing dedicated universes to enrich the visitor experience
The museum is not an ordinary place. It must offer wondrous experiences. The challenge faced by museums is to present a collection in a way that captures the public's interest. It has to create a rich experience that conveys a particular message and brings stories to life. Improving the visitor experience is a key element in a museum's development and endurance, and a thorough knowledge of different audiences helps attract visitors by tailoring the experience of a visit to what they want and thus ensure long-term sustainability.
Creating meaningful visitor experiences
France Muséums develops dedicated universes to enrich the visitor experience. This begins on the journey to the museum and ends on the return home. Every stage contributes to the creation of a full and enjoyable experience, in every space of the museum, not just the exhibition area. A visit should leave a lasting impression, be a truly empowering experience and an engaging journey. This can be invaluable in stimulating long-term audience loyalty.
Audience research
___________
It is essential that curators and museum staff are aware of visitors' activities in their museum, such as which exhibitions are mainly visited, and which galleries visitors spend the most time in. Consequently, regular audience analyses are required to provide detailed information about visitor preferences, thus helping to encourage long-term audience loyalty.
We are experienced in conducting different forms of audience research, evaluations, and strategic and operational recommendations on audience development, and on how to improve the visitor experience and quality of visits.
Accessibility master plan
___________
Accessibility is a fundamental requirement for a museum. As a space designed to welcome everyone, the museum must be accessible to all types of visitors, no matter their age or physical or mental condition. Open to cultural differences, it is a place with the social role to connect people, cultures and generations, eventually creating a community of individuals. We support our clients at all stages to improve the museum's accessibility and remove all potential barriers.
Interpretive planning and design
___________
France Muséums builds innovative projects and exhibitions by combining high-tech and low-tech solutions to reach the widest possible audience and bridge the gap between art and the viewer, regardless of culture or origin. France Muséums and its interpretation teams are involved from the very first stages of exhibition design, embracing the main themes and the proposal of coherent interpretation and multilingual narrative solutions. Our mediation teams design meaningful and multi-sensory experiences for our clients, from innovative signage to interactive media and audiovisual tools.
Digital content and innovation
___________
France Muséums offers visitors an innovative and accessible experience in harmony with the curatorial project, to engage the new generation of museum-goers through immersive content, virtual tours and complete interactive audio-visual experiences. We also develop a range of digital strategies for online content to accompany visitors in the pre- and post-visit museum journey.
France Muséums is proud to bring together leading international experts to design innovative narrative tools that combine curatorial content and new technologies.
Inclusive educational programs
___________
A museum is a place of encounter between artworks and visitors, and plays a unifying role in society. France Muséums produces content and programmes to encourage education and creativity among different audiences, such as families, youths, school groups and educators. The museum is a place of life, reflection and discovery and has a strong social impact on its communities.
Our educational approach is based on multidisciplinary tools (visual and sound art, digital tools, workshops, and dedicated tours) with the aim of creating an intergenerational exchange and promoting diversity, equality, tolerance and inclusion.
Visitor services and revenue generation
___________
The integration of visitor services into the narrative of the museum is paramount. To build an overall visitor experience, waiting and reception areas, cloakrooms, toilets etc. must be designed and considered in the same way as galleries and exhibition spaces. We help our partners reflect on their needs for these areas, through their thorough understanding of visitor profiles and expectations.
We guide our clients regarding ticketing, information desk, sales and catering areas. These services are essential to the museum's operations and are eagerly awaited by visitors looking for a new and personalised experience. Their design and the way they are managed and operated contribute to the development of the museum's income. We support our partners in their strategy by carrying out audience research, benchmarking, space planning, business model development, operational roadmaps and the drafting and monitoring of concession tenders.
Our museum experts can design innovative visitor experiences