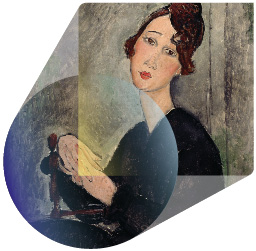 Capacity Building & Support
Providing museum professionals
with the support they need
The success of a museum project cannot be measured simply by the quality of the architectural design and the value of the collections, it extends to the quality and capacities of the professionals involved. Consequently, the transfer of skills and the training of the individuals who will be given responsibility is crucial. We develop customised support and mentoring strategies adapted to our clients' needs and based on the transfer of know-how and the peer-to-peer relationship.
Developing a global customised training strategy
Capacity building and the transfer of skills and knowledge are key elements in France Muséums' DNA. We support our partners through the development of a training policy adapted to their needs and cultural setting. Our experts put their know-how at your service in the drawing up of complete support plans or specific training courses for your teams. Our network of renowned institutional partners allows us to provide high-quality programmes in museum management, museum professions and art history. We make training accessible to all by focusing our attention on the intercultural context of each individual and their strengths and capacities, while also putting their knowledge and background to good use.
Learn more about our vision of global training
Conception and implementation of 360 training plans
___________
France Muséums' training policy is rooted in the collection and analysis of needs as they are expressed by those directly concerned. Our training strategy takes two complementary approaches: work on professional skills (art history, conservation techniques, etc.), in tandem with a more personalised programme on soft skills transmitted through the sharing of experiences, meetings and network building. This approach encourages the development of employees and meeting the expectations of the museum sector.
We develop customised training courses, using dedicated facilities and a tailored teaching format, suited to all professional functions (management, the conservation of works of art, visitor reception, educational programmes, mediation, security, etc.). The background and specialities of the different employees are carefully taken into account, so as to best adapt them to the challenges and context of their role.
Support for career paths
___________
We attach particular importance to the opportunities for development by each individual and offer tailored training courses or support related to the resumption of an academic career. Our network of partners allows us to provide contacts with academics and professionals in a position to guide and supervise any employee wishing to pursue a training course.
A museum is a repository of talent: we assist our partners in seeking out and retaining this talent, and then in developing it by offering appropriate career paths, while also encouraging mobility within the structure.
Technical and scientific training in museum tools
___________
We support our partners in the development of technical training courses that cover the needs of the entire museum world, as well as all of the museum's functions: management, preventive conservation, public access.
Everyone can then have an overview of the system to which they contribute, and a clear understanding of their role within the museum and in relation to the other professions.
Through our work as advisors, programmers, designers and project managers for museums, we operate at the centre of a network of professionals passionate about art and its history. Preliminary training in art history remains fundamental to our expertise.
Training courses in this subject can meet the needs of cultural mediators for one-off or regular refresher courses or be directed at employees wishing to learn about or deepen their knowledge of art history in relation to more specialised disciplines. To achieve this, we mobilise France's most highly recognised experts in the field thanks to our partners at the Institut National du Patrimoine and the Ecole du Louvre.
Development of new training procedures
___________
Our training methods evolve as they go along, and with the audience for which they are intended. To meet the needs of our partners, we define the best training methods to promote interactivity, autonomy and immersion.
We have the means to develop e-learning platforms with multimedia content as either an alternative or a supplement to face-to-face academic training. The diversity of our materials – featuring quizzes, podcasts, videos and course summaries – stimulates the creativity and proactive behaviour of their users.
To ensure practical situations and interaction between employees are practised in our courses, we are able to design customised programmes with our partners, and include workshops led by experts from our partner institutions.
Let's design a training plan for your museum
Discover our other areas of expertise