Opportunities and Challenges for Museums Today
As an International Museum Consultancy, France Muséums took part in Expo 2020 Dubai in the France Pavilion, and in January 2022 organized Les Rencontres by France Muséums, a day-long event reflecting upon the future of museums and their role in society. France Muséums leverages its extensive expertise to provide international project leaders with support and guidance. By redefining and reasserting the role and responsibility of museums, we aim to build a more accessible, inclusive and sustainable world. This article summarises the outcomes of the discussions that took place during Les Rencontres and explores the opportunities and challenges faced by museums today, paving the way for more in-depth conversations with the broader community of museum experts and aficionados.
FRANCE MUSÉUMS STATEMENT
France Muséums shares the conviction that museums are powerful political and social assets. Far from being outdated facilities, museums are places where education, entertainment, research and innovation can thrive.
Museums are key tools than can help us meet the challenges of tomorrow by responding to concrete objectives and cross-sectoral issues defined by long-term international policies such as UN SDGs and Agenda 21. Museums are not only powerful levers for economic development in their communities, but also essential tools helping us to build peaceful coexistence in a context where identity-related tensions run high—especially since the health crisis. Their fundamental task of protecting and showcasing our heritage for current and future generations does not mean that their role is in any way cosmetic or superficial. First, museums help us to address local economic and social issues; and second, in a competitive international context, they increasingly support the implementation of broader diplomatic visions and strategies of influence. By bringing together objects from different cultures, museums provide spaces where people from diverse cultural backgrounds can meet, interact and improve their mutual understanding.
Thanks to its unique status, the museum supports values of tolerance, inclusiveness and diversity and actively engages with contemporary issues such as sustainable development. But this inevitably raises a number of questions. Can museums be profitable? How can we make them more accessible, more sustainable and more innovative? Do museums have to take sides where decolonization, inclusiveness and commitment to particular communities are concerned? Should the museum concept be reinvented in a post-Covid world, and if so, how?
THE FUTURE OF MUSEUMS
During the symposium, high-level speakers working in different areas of expertise were asked to reflect upon the future of museums and the challenges and opportunities they face.
Lazare Eloundou Director of the World Heritage at UNESCO, made the opening remarks and kicked off the discussions by highlighting the crucial contributions of museums with respect to current and future generations. The health crisis has made it harder for museums to maintain the social connections and to fulfil their educational mandates, and to conserve and protect their collections. The pandemic deepened existing inequalities including access to museum content. Along with the digital divide, the unequal distribution of museums worldwide significantly impacts access culture and knowledge. Museums are major drivers of social and economic development. They preserve the past so that we can better understand the present and prepare for the future. Lazare Eloundou stressed that their essential roles can only be fulfilled within the framework of constant, concerted, robust international cooperation and ambitious cultural policies. UNESCO, since its inception, has supported the development of museums worldwide through the establishment of normative instruments, such as the 2015 Recommendation concerning the Protection and Promotion of Museums and Collections, their Diversity and their Role in Society, the orientation of public policies or the support for the creation or rehabilitation of museums. In the wake of the pandemic UNESCO has provided new data on museums and recommendations, and continues to foster exchanges among heritage professionals and strengthen international cooperation, with a particular focus on Africa.
His Excellency Mohamed Khalifa al Mubarak made the first keynote address. Referring to the long-standing diplomatic relations between the UAE and France and the ten-year extension of the Louvre Abu Dhabi partnership, which will now run until 2047, he lauded this iconic institution, the first universal museum in the Arab world, as a testimony to the power of collaboration that transcends borders and cultural differences. At a time of rapid technological change, our world is more interconnected than ever before but social fragmentation is increasing. His Excellency stressed the importance of placing diversity and inclusion at the heart of cultural strategies and the need for the museum of tomorrow to reflect its local context while also reaching out to the world. Museums have a crucial role to play in forging a world of greater understanding and acceptance through diversity. Describing the commitment to supporting creative and cultural industries as an economic driver, His Excellency expressed his conviction that the museum of tomorrow is an investment offering the next generation a wealth of professional opportunities.
Sandra Lagumina, moderator of the first roundtable, highlighted the fact that museums must be fully connected to the challenges of our times in order to meet the global requirements of sustainable and integrated development.
At a time when the concept of the Anthropocene is increasingly talked about, international, national and local development policies must be both sustainable and integrated. The Sustainable Objectives set by the UN and Agenda 21 emphasise the need to tackle problems in an integrated and practical way. This not only naturally entails respect for the environment; it also involves ensuring that economic development is more evenly distributed in order to promote peace, improve human rights and offer future generations a better world. The UN SDGs respond to the global challenges we face, including those related to poverty, inequality, climate, environmental degradation, prosperity, peace and justice.
At every level of political intervention, the museum is an essential asset in building a better and more sustainable future for all:
At the international level, it is not only an asset in terms of international competition but also a formidable tool for fostering understanding, knowledge and respect between nations
At the domestic level, the museum can support local economic strategies (attractiveness and tourism), social initiatives and regional planning schemes
As a space for creativity, innovation, research and development, the museum plays an active part in building the future of local regions and society at large.
Michel Miraillet began by linking the future of museums to the importance of strong museum diplomacy. He highlighted that the success of Louvre Abu Dhabi is rooted in a combination of political will and quality artistic content. In many ways, this complex venture foreshadowed the changes that the symposium focused on. What do we expect from museums today? What challenges do they face? How do countries that invest in soft power push their agendas globally? The situation is constantly evolving, and diplomacy plays a major role in defining this new historical moment for museums. They have had a clear political function since the first European museums were created in the second half of the 18th century, but this role has been reinforced over the last 20 years with the increased internationalisation of artistic and cultural issues. In recent years, museums have diversified and amplified their influence on the international stage. The originality of their venues, the quality of their collections and temporary exhibitions, the expertise they possess in terms of research and conservation, their educational and mediation programs, the visitor experiences they provide, the new technologies they use and their ability to build partnerships…all add to the international value and reputation of museums today.
At the same time, the world has changed dramatically. New political and economic powers in Asia, the Middle East and Africa have entered the international arena. They are eager to ensure that their economic and political rise includes the development of soft power, especially through art, culture and heritage projects. With this in mind, the strength of the French model lies in the vitality and diversity of its partnerships, its ability to produce quality content and innovative experiences, and its capacity to mobilise political will. Partnerships between French and public and private foreign institutions (Louvre Abu Dhabi; Centre Pompidou in Malaga, Shanghai and Belgium) exemplify an overarching vision that aims to expand international cultural cooperation, generate income and enhance local skills.
What would the ideal model for museum diplomacy be today? Michel Miraillet stressed the importance of co-construction and long-term partnerships. Different countries and cultures have different views on the role of museums in a society, area or community. To be aware of the challenges they face, we must understand their specific characteristics. The role of French experts is to help local partners to build their own narratives and spaces.
Providing insight into her practice and diversity of projects she has led, Lina Ghotmeh, focused not only on how to build a museum for yesterday, today and tomorrow, but also on how to anchor a museum in its place and community. As the architect of the Estonian National Museum, she questioned herself on the political will to transform a history and a place that gained independence from the Soviet Union in 1991. The museum, located in a military airfield, focuses on building memory and identity as well as transforming the meaning of a site. A museum creates identities and memories that evolve over time, connected to the site and evolving along with it. It is all about heritage. She also asks how a building can be sustainable, not only in terms of the museum collections but also in terms of how it relates to its environment. Museums are not only places where collections are displayed, they are also places where people meet to produce culture: they are cultural incubators and places where we can share knowledge, tell stories through exhibitions and showcase history in a fun, interactive way, using digital resources and hands-on approaches to engage young visitors. The museum building sparks the imagination and sometimes makes political statements. Lina Ghotmeh then shared her project for Shenzhen Antuo Hill Museums in China, stressing the healing role of museums. Here the buildings are a celebration of nature and heritage. They take full account of the past and their current physical context, but at the same time they look forward to the future. She underlined how meaningful architecture, whatever its scale, culture or location, can help museums to integrate with their local areas. As cultural and creative incubators, museums are not merely buildings: they can spark the imagination by being both essential and extraordinary.
Kyung Wook Kim talked about a wonderful project that involves creating a museum inside an airport. Incheon Airport has grown into a world-class airport over the last 20 years, but the pandemic had severe impacts and triggered new conversations. To ensure future growth, a new vision for Incheon Airport needed to be drawn up, focusing on the idea that an airport creates social value. The airport is not just a place where planes take off and land; it is a place where people and cultures meet and where the present meets the future. It is, so to speak, a place that connects people through culture and time—just like museums do.
Incheon Airport offers programs and exhibitions focusing on fine art, heritage, pop art, culture, and festivals to enhance the customer experience. The Airport Museum opened in June 2022 in collaboration with the National Museum of Korea. Looking beyond profits from advertising, they learned to use open space as a cultural platform. Kyung Wook Kim's vision extends outside the terminal as he plans to make the whole island an island of culture, linking tourism and aviation in the firm belief that the airport can be a destination in its own right. Reminding us that other airports such as Hong Kong, Singapore, Paris and Amsterdam are starting to activate culture to create new customer experiences, he said that we are on the verge of a cultural and industrial paradigm shift where airports will provide a new platform for art and culture and become world class art hubs.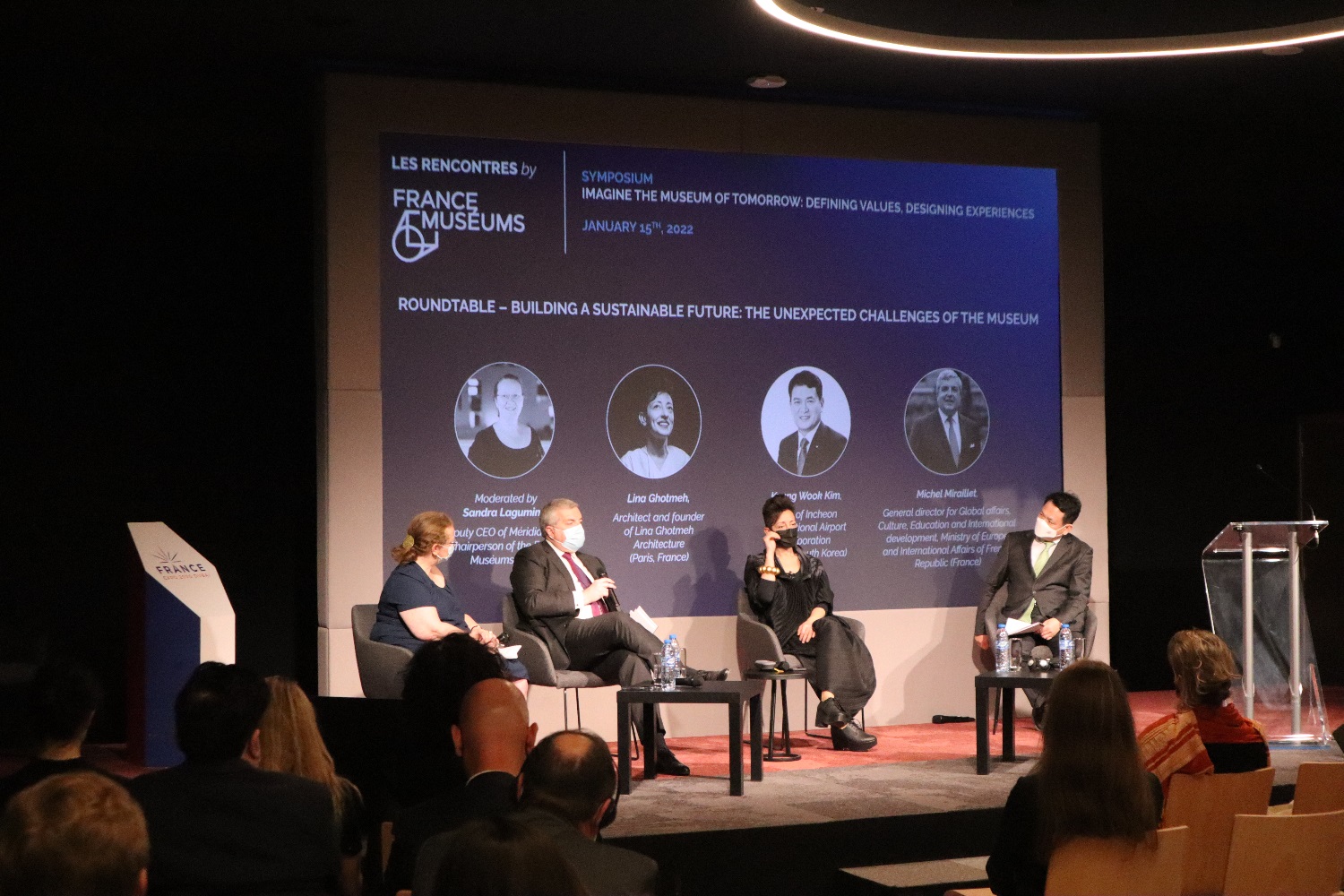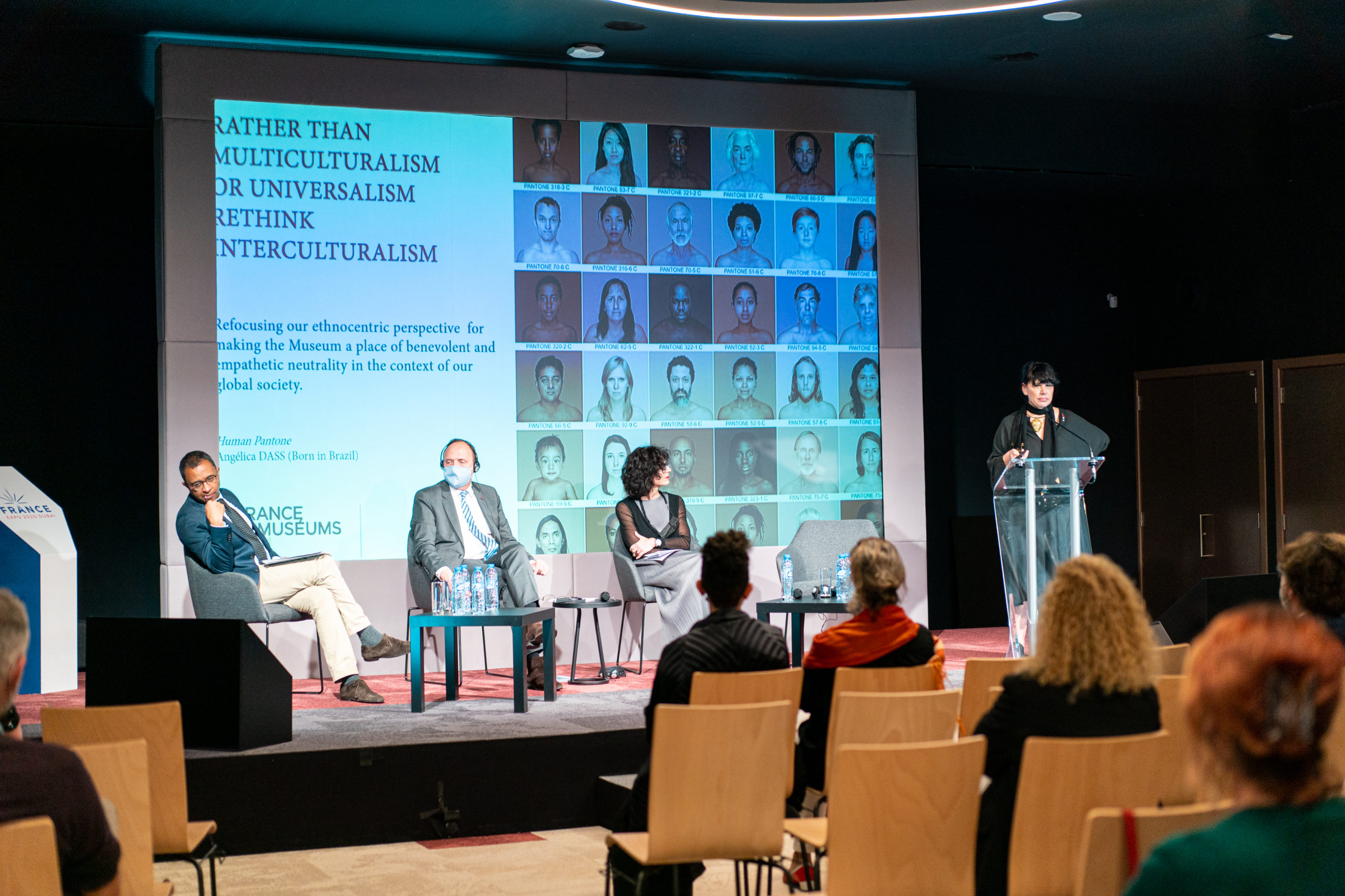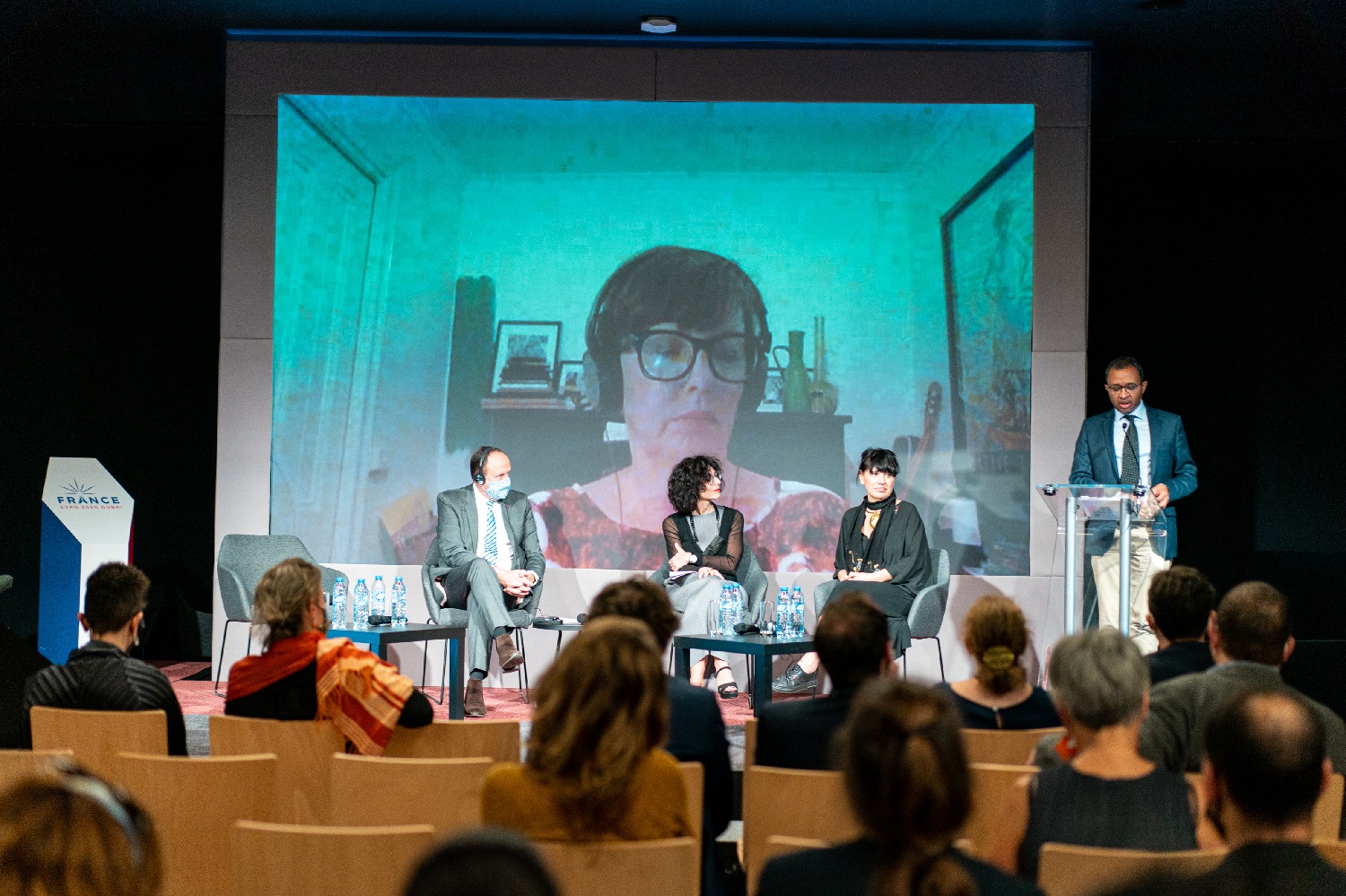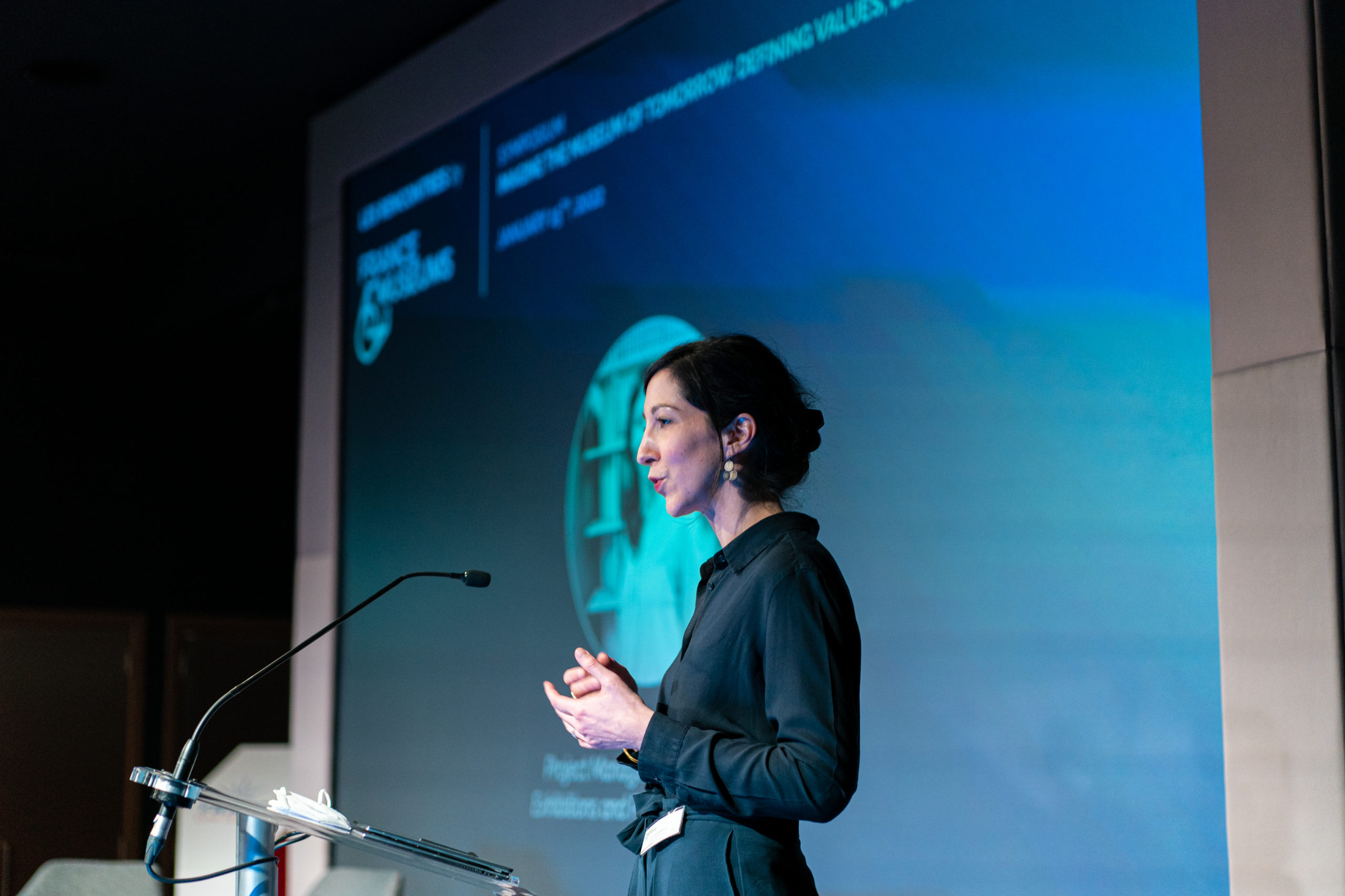 THE PURPOSE OF MUSEUMS – BUILDING A STRATEGIC CULTURAL PROGRAM
The second roundtable focused on highlighting why and how strategic cultural programs should, more than ever before, support a structured discourse whose aim is to energize museography and provide new experiences by placing visitors, in all their diversity, at the heart of the process. This roundtable focused on the purpose of museums and the tension that can arise when universality and diversity collide.
In the second keynote, Laurence des Cars, head of the world's largest museum, the Louvre in Paris, highlighted the changing role of museums in society and the fact that they lie at the very heart of societal issues. As museums face new challenges including multipolarity, excessive industrialization, climate change and increased fragmentation, many people are being excluded from them. At a time when universalism is being called into question, museums have an opportunity to revive their role and purpose and inject new meaning into their missions. Stating that the aim of universality should be to improve dialogue and understanding between people and cultures, Laurence de Cars highlighted three key strategic orientations to make sure that everyone is welcome:
Define scientific policy that embraces the world as it is today (contemporary artists, exhibitions showcasing previously unseen art, acquisition policies that recognize female artists, digital policy bringing together physical and virtual reality to engage the younger generation).
Establish an increasingly dynamic public development policy by listening to the community and creating accessible experiences for all kinds of audiences.
Build an image that is beyond reproach. Museums have a duty to lead by example and must assume their social responsibilities as organisations. Museums must ensure that partnerships are in line with their values and messages, set an example where sustainable development is concerned, and position themselves at the forefront of ethical leadership.
Pap Ndiaye followed Laurence des Cars with the second roundtable. He pointed out that traditional hierarchies have been challenged in the western world in recent decades. Museums are facing new demands from various sectors of society. The fundamental question is "how do we combine the universalist dimension of museums with careful attention to the diverse, and sometimes contradictory, stories that make up the very fabric of society? Who is entitled to tell their stories?" These issues are fundamental if we want museums to produce new narratives relevant to the complexity of our multicultural world.
Nathalie Bondil challenged established notions and ways of thinking, for example by questioning both universalism, which need to be modernized, and multiculturalism, which can divide people and essentialize issues. She suggested that we should work together to invent a forward-looking community focusing on interculturalism, stressing the need, for instance, to connect ancient art with contemporary art. She deftly noted that although museum collections are permanent, the way people look at them keeps changing, which means that we must adopt a modest approach, promoting a "context culture" rather than a "cancel culture". Sharing her experience across continents, she noted the urge to think glocally, to celebrate gender equity, to foster multi-disciplinary approaches, and to rethink our knowledge system in a more network-based, collaborative way, giving other areas of expertise the opportunity to establish themselves in museums. Nathalie reminded the audience that emotions and empathy are at the core of art and that museums are places of togetherness that can benefit public health, as shown in Montreal where she initiated the idea of museum visits prescribed by doctors.
Katrina Sedgwick OAM presented her institution, the Australian Centre of the Moving Image (Acmi), as a place dedicated to maintaining a continuous conversation between past and present, analog and digital, the physical and the virtual, and the local and the global. It is the most visited museum of its kind in the world. She stressed that Acmi is as interested in showing the creative process as in presenting the final product, which is why she seeks to connect three different audiences: the public, the industry that creates the moving image, and education—from high school to university. She explained how the institution has changed over the past seven years, aiming to become a welcoming space that can deliver on its critical role in fostering media literacy. What is key, alongside new, more welcoming spaces, is the building of a platform for interchangeable content and experiences that are designed to evolve as Acmi, and the communities, change. First Peoples' culture and creativity through self-representation is at the heart of their story and was the starting point of their curatorial journey. In consultation with its Indigenous Advisory Group and First Nations curators, she commissioned Gunditjmara artist Vicky Couzens to create a multi-part, site-specific installation that opens and closes the exhibition, recognising that First Nations people have been telling stories in Australia for 60,000 years. Giving visitors an active role to play in their visit is a key element and Acmi developed a lens with a NFC chip in it which enables people to collect objects and artworks, interviews, videos, and interactive experiences, including things that people create themselves. It extends the visit into the home or school, giving people more to watch and play with afterwards, providing recommendations for further watching and reading after they leave the museum and keeping the conversation alive. Acmi is a unique museum platform where the physical place where people can gather to share stories is deeply intertwined with a digital experience that leverages what the internet is best at.
Shirin Brückner focused on the sustainability of the visitor experience. The main questions for her regarding museums today are: how to convey information in new ways in order to support content more effectively and enhance understanding; how to connect people in a very different way; and how to make sure heritage museums remain relevant in a fast-changing world. To achieve this, her philosophy is that "form follows content". This overall concept influences not only the spatial design itself but also decision-making throughout the design process, which interweaves key messages with the different elements of the scenography. As sustainable experiences are defined by content and space, it is necessary to interpret the content within an architectural space, putting its recipients at the centre so that they can engage with the content personally and emotionally and play an active part in the experience. This can be achieved by appealing to the senses: sound, for instance, can completely change a visitor's emotional attitude. The idea is to use media to support content, never for the sake of technology alone. This is the best way to find the right balance between physical and digital experiences. Shirin concluded by talking about the constant need for reinvention by adopting interdisciplinary and intercultural approaches.
Discover more about Atelier Brückner
Vincent Campredon's talk echoed Shirin Bruckner's words on the need to aim for a multi-sensory experience when designing a museum strategy. He held various key positions in the French Navy, especially in the field of communication, before being appointed director of the National Maritime Museum of France, one of the largest museums of its kind in the world. His mission was simple: to inspire visitors with a love of the sea and make them aware of how vital it is to our world. Tasked with turning a 250-year-old institution into a museum of the future, Vincent made the museum relevant to today's audiences by fostering a sense of wonder and curiosity, telling the long, fascinating story of maritime activity and its rich heritage. The aim of the new museum is clear: to use the power of emotions and the imagination to make visitors aware of the ecological, economic, scientific and military challenges that make the sea so vital to the future of mankind.
Pap Ndiaye opened a discussion on the social challenges that museums are facing and how these challenges have affected the way they operate. Nathalie Bondil argued that what has changed is that museum discourse is no longer restricted to narrow scholarly subjects: instead, museums more easily embrace different areas of expertise. She argued that this raises a question of power and of the legitimacy of museum discourse. From Shirin Brückner's point of view, what has really changed over the last twenty years is that museum teams working on projects adopt an interdisciplinary approach from the start. For Katrina Sedgwick, what has changed is that museums have been able to evolve, experiment and take risks, are less afraid of failure and are able to use new channels to reach new audiences. For Vincent Campredon, the key is to foster team spirit in order to manage change and reposition the museum.
---
The shortcomings of many museum projects are not due to lack of resources, ambition, or talent; they arise from a failure to ask questions, to define overall expectations and to formulate integrated goals. During this day of discussions, it became clear how important it is to approach a museum project as a fully integrated whole, making sure that all the people involved work together, from design to implementation, to ensure the social and cultural coherence of the project as well as its long-term sustainability.
Set up to bring French national museums together to work on the pioneering Louvre Abu Dhabi project, France Muséums capitalises on its unparalleled experience, using its expertise and that of its partner network to support the design and implementation of museum- and heritage-related projects where the visitor experience is at the heart of the concept.